Our big announcement
Today we are proud to announce our latest sales tool for contractors - Ccino Financing Dashboard. With our new dashboard, you and your sales team can now offer financing over the phone, perform monthly estimates during on-site visits, and manage your leads - all in one place.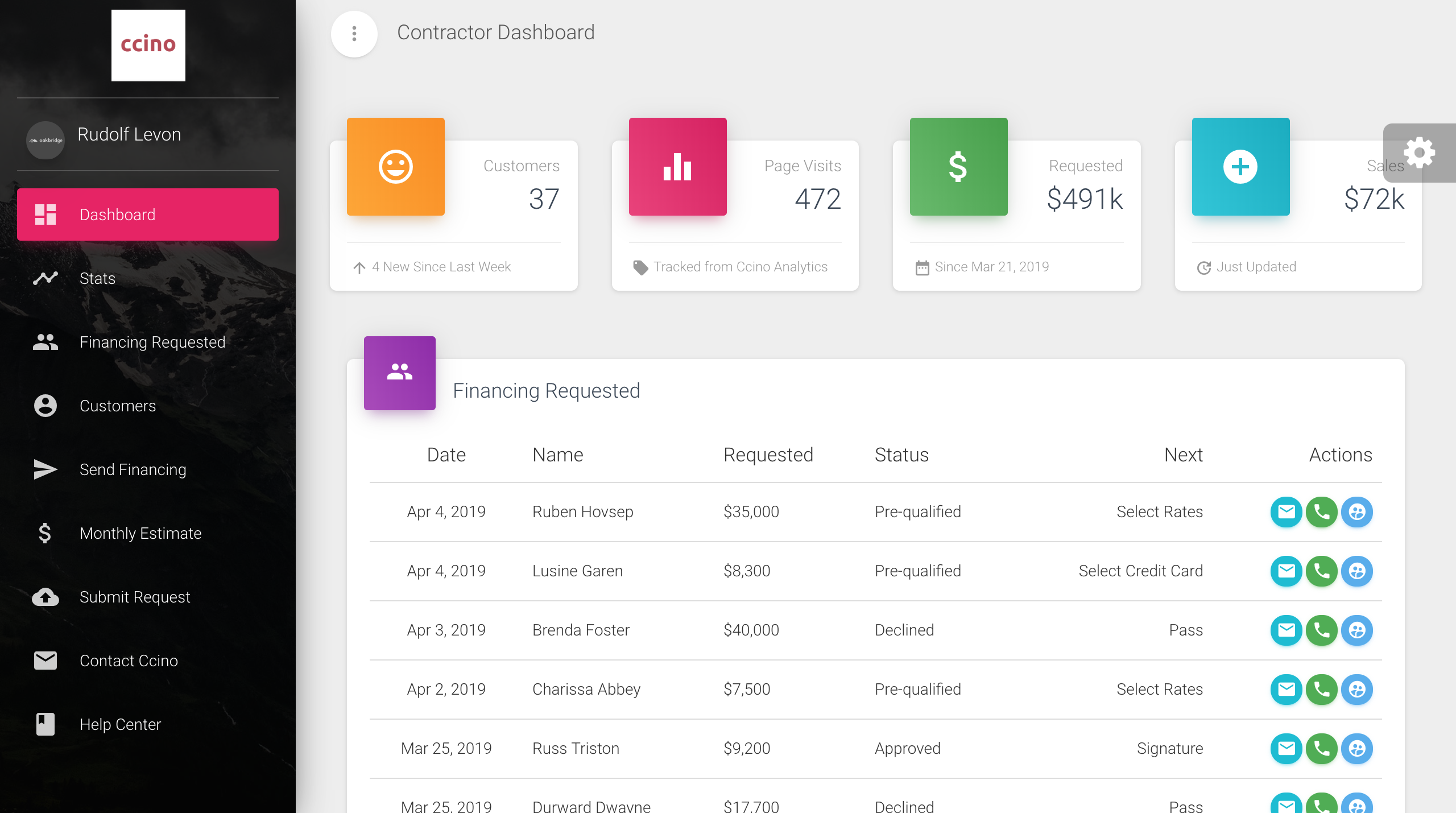 Our New Financing Dashboard Beta Version 0.1
What it can do
Ccino Financing Dashboard inherited our core belief that financing solutions work best when it can largely simplify the sales process and boost sales for businesses. It allows your business to:
Keep track and monitor your business's sales performance

Quickly follow-up with customers who had requested financing

Send financing to any customer in under 5 seconds

Perform monthly payment estimates just by a few taps

Check your customers' rates in under 2 minutes
"Financing solutions work best when it can largely simplify the sales process and boost sales for businesses"

- Team Ccino
See sales in one place
It's always important to keep track of and monitor your business's sales performance. In Ccino's Financing Dashboard, you can easily analyze the growth of customers, page views, financing requests & sales results.

Your Statistics Dashboard
Quickly follow-up
We understand it's difficult to keep track of which customers had requested financing. This is why we have the built in Financing Request Dashboard where you can see the list of every customer who had requested financing from your business. We've also made it easy to email and call your customer just by one tap.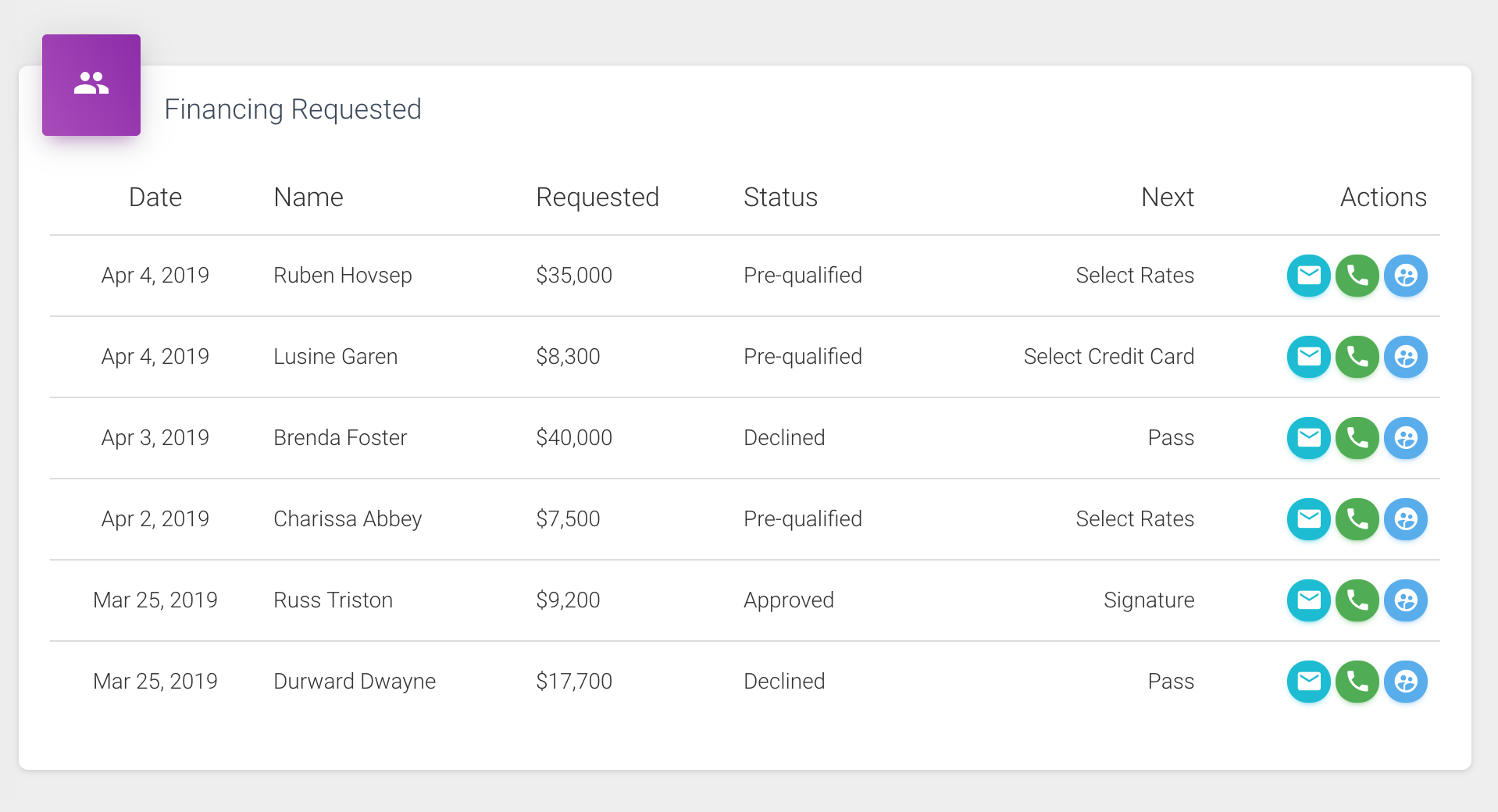 Your Customer Dashboard
Send in 5 seconds
Sending over your financing options to your customers has never been so easy. Just by entering your customer's email address or phone number, we will send an automatic message to get them started.

Your Send Financing Widget
Estimate in 10 seconds
Your customers always compare your quote with other contractors, how about letting them know there's no need because now you can just pay with monthly payments? With the Financing Dashboard, you can perform the estimate over the phone or during you on-site visits.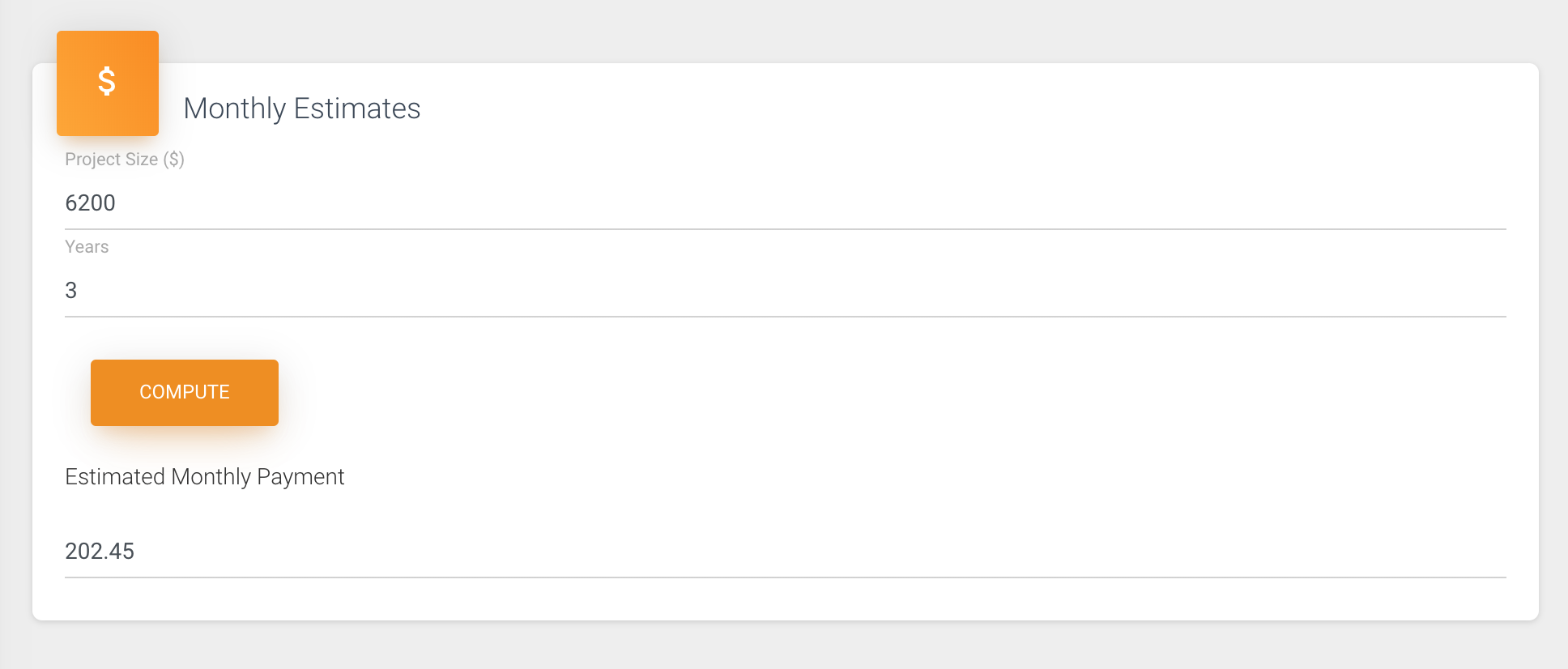 Your Monthly Estimate Widget
Quickly Submit Requests
If your customers are ready to check their rates, you can simply hand over your device and let them input their information and check their rates under 2 minutes - all without impacting their credit scores.
Next-steps
We are excited to bring this news to you and help your business grow more sales. If you want to learn more, please visit our help center to learn more about our functionality and how-tos.
If your business is currently looking for a financing solution that works with your sales team, get in touch with us to learn more.